---
Sort by:
Top sellers
New
Price ascending
Price descending
Filter
---
Cars
FC Bayern Touring Bus
€16.99
The FC Bayern Touring Bus from Dickie Toys is the perfect toy for young FC Bayern Munich fans. The bus is designed based on the original FC Bayern Munich team bus. The large, clear glass windows provide a view of the lovingly designed interior, which is designed like a real team coach. The doors can be opened and closed to reveal even more stunning details. The friction-powered bus has a robust design and is ideal for role play scenarios. Designed for children aged three and above, it is the perfect addition to a toy vehicle fleet and is packed with fun features waiting to be discovered!
More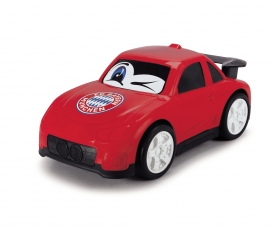 Cars
FC Bayern Happy Runner
€13.99
"The FC Bayern Happy Runner is the perfect toy for young FC Bayern Munich fans. Featuring two big eyes on the windscreen, the Dickie Toys vehicle introduces little ones to the world of sports vehicles. All parts of the Happy Series vehicles feature a child-friendly design adapted to the needs of small hands. The car can be easily held by hand and has a push-along design with free-rolling wheels. Challenge your little one to an exciting race through the living room! • Toy car with rolling wheels • Original license from FC Bayern Munich • Colourfast and saliva-resistant • Rounded edges • Parts cannot be swallowed • Length: 27 cm • Recommended age: 1+"
More