---
Sort by:
Top sellers
New
Price ascending
Price descending
Filter
---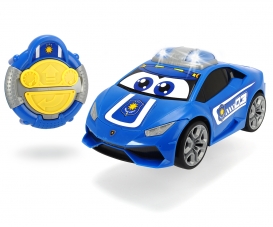 Toy vehicles
IRC Happy Lamborghini Huracan Police
currently not in stock out of stock
"The IRC Happy Lamborghini: introduction to the world of sports cars! Dickie Toys is proud to present the IRC Happy Lamborghini: a remote control car for young children that they'll simply adore. Because a smart little Lamborghini - particularly one sporting such a cheery design - is sure to awaken a love for the most beautiful sports cars in the world. The sportster is operated by a simply designed and easily operated infrared remote control. Rounded corners and sturdy manufacture mean that it's tough enough for even the youngest child to test out the amazing technology. Depending upon the environment and surface, the IRC Happy Lamborghini can reach speeds of up to 2 km/h, making it unlikely to cause any damage. A flashing light on the top makes the sports car even more appealing to the senses. This cheery toy car encourages youngsters to discover how remote control works as well as training abstract spatial awareness. All good preparation for when the time comes to take the real driving test.        
More