---
Sort by:
Top sellers
New
Price ascending
Price descending
Filter
---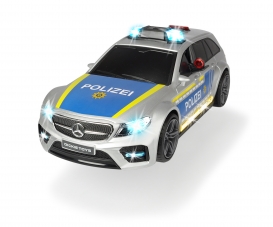 Police
Mercedes Benz E43 AMG Police
€27.99
Police Mercedes-AMG E 43: always ready to respond. The Mercedes AMG E 43 is one of the best-loved sports models from this great brand. Keeping order can be so much fun in a run-about like this. The same fun is also guaranteed in the police Mercedes-AMG E 43 from Dickie Toys. The highly detailed, motorised toy car has a surprise or two in store. The tailgate opens automatically at the press of a button and a dog is heard to bark. Light and sound effects from the police world stimulate the imagination and, of course, ensure that the play experience leaves a more lasting impression. Children from three years of age can start play at once – the batteries are included.
More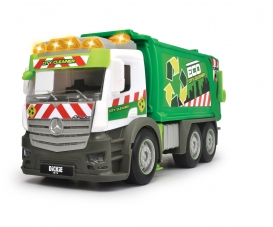 Refuse vehicle
Action Truck - Garbage
€19.99
Dickie Toys – Action Truck Garbage – Refuse vehicle with wheelie bin, sound effects and warning light, loading/unloading function, for children aged 3 and above  "It's rubbish collection day!" Refuse collectors have fascinated young children for generations. Nothing is more exciting that watching a refuse collection vehicle loading and unloading rubbish. For budding young refuse collectors  The vehicle also comes with a wheelie bin, which can be filled with building blocks and small objects. Once the bin is full, simply unfold the support columns on the vehicle and place the bin in position. The built-in lever can then be used to unload the contents of the bin into the vehicle. There is also a tilt function for unloading the trailer at a landfill site. Modelled on Mercedes truck The truck is modelled on a Mercedes Actros and features a large Mercedes logo. It also features a built-in friction motor, which propels the vehicle several metres when pushed. Don't forget to check out the other two vehicles in this range, the Dickie Toys Recycling (203745015) and the Dickie Toys Recovery Truck (203745016). Light and sound effects The refuse vehicle features realistic sound effects and an orange warning light to alert other road users. It also comes with 2x AAA batteries. The ideal toy for all children aged 3 and above! Dickie Toys – Over 5 decades of cutting-edge toys At Dickie Toys, we are passionate  about vehicles, boats, aircraft and everything else that moves. Our range of vehicles includes diggers, police vehicles, fire engines and more, which feature realistic designs and allow your little one to explore the world like never before.
More
New