---
Sort by:
Top sellers
New
Price ascending
Price descending
Filter
---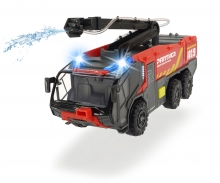 Fire brigade
Airport Fire Engine
€22.99
Dickie Toys Airport Fire Brigade Endless fun for all the senses Airports need to be prepared for any eventuality. The Dickie Toys Fire Brigade is always ready to spring into action. The detailed truck with rolling wheels is designed in the style of a Rosenbauer fire engine and features an exceptionally realistic interior in the driver's cabin. The highlight is the moving extinguishing arm with a water spray function, which is guaranteed to provide hours of endless outdoor fun. It also features light and sound effects and is designed for children aged 3 and above. The batteries are included with the product.  
More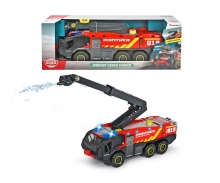 Fire brigade
Airport Crash Tender
€44.99
Dickie Toys Airport Crash Tender: All hands to the pump! An airport fire can quickly get out of control. Thankfully, the airport fire brigade can be on site in no time. The fire-red Airport Crash Tender from Dickie Toys is a must-have for all young fire brigade fans: Featuring rolling wheels, the fire engine has a highly detailed driver's cabin, extra storage space, light and sound effects and a water tank that can be filled with water. The clever water spray function on the extendable arm is a real highlight for children and is easy to operate by hand. Surprise your children with this special fire engine and discover a wide range of other emergency vehicles from Dickie Toys.
More
New