---
Sort by:
Top sellers
New
Price ascending
Price descending
Filter
---
Boats
RC Fireman Sam Titan
€64.99
Fireman Sam Titan: The bathtub becomes a world of adventure! With Titan by Dickie Toys, the smallest pond is transformed into a vast ocean, because the remote lifeboat turns it into the sea off Pontypandy. Here Sam and his friends experience many adventures. The fire boat can move left, right, forwards and backwards. At the touch of a button, water spouts from the water hose at the front. It works using a pump and a suction pipe, so the boat doesn't need a tank. Fireman Sam stands next to the water cannon as a toy figure, ready to jump into action. The boat also has a searchlight. Make children's eyes light up with the high-quality toys in the Fireman Sam Series by Dickie Toys.
More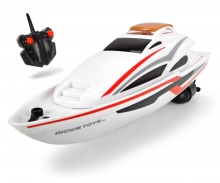 Boats
RC Sea Cruiser, RTR
€29.99
The Sea Cruiser is the king of the seas! Do you want your first personal yacht? The Dickie Toys RC Sea Cruiser has a real sailor's feel to it, and can take to the sea immediately thanks to the provided batteries. It turns your garden pond into an ocean with up to 2 km/h. With radio remote control and agile mobility on the water, this motor boat provides exciting play in the fresh air – without the need for supervisors to be worried: The toy has a propeller drive with a safety shut-off. The propeller does not start to rotate until the boat is on the surface of the water. This means that children of six years and above can experience the fascination of their first yacht.
More