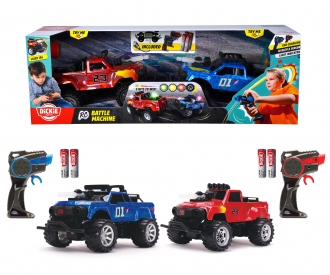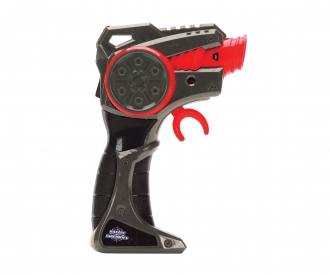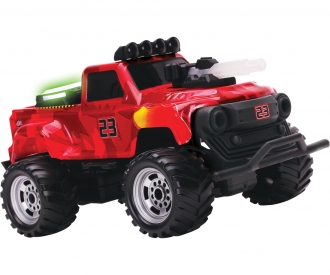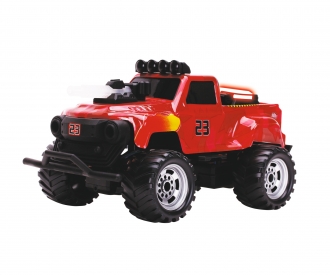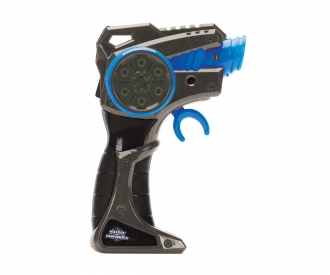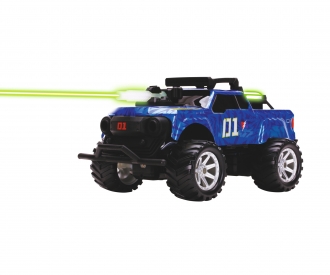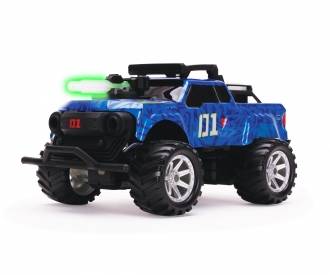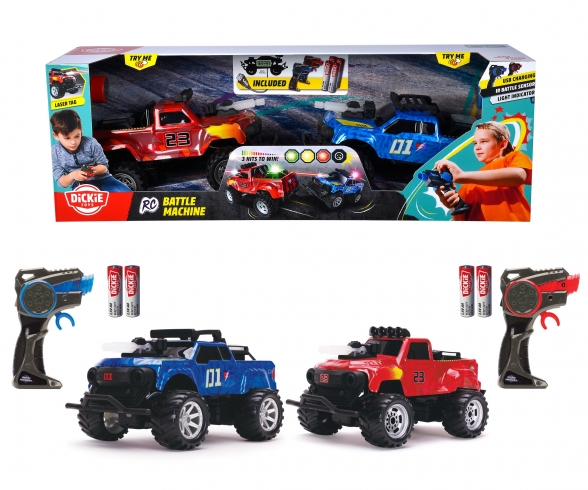 New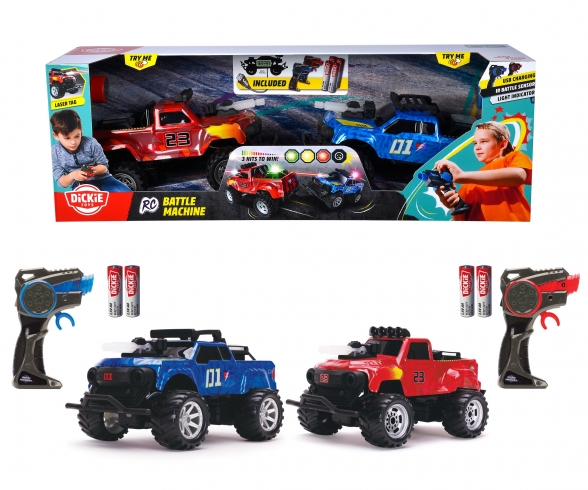 Quantity:
1
2
3
4
5
6
7
8
9
10
11
12
13
14
15
16
17
18
19
20
21
22
23
24
25
26
27
28
29
30
Dickie Toys – RC Battle Machines – 2 remote-controlled laser tag cars with IR shooting function and hit indicator, for children aged 6 and above
Dickie Toys – RC Battle Machines – Make your child's dreams come true with a vehicle duel!
"You get a three second head start!" – then let the game begin! The blue monster truck then follows and tries to shoot the red truck. "Missed, just off target!" Before you know it, the blue truck turns around and shoots you. "Bull's eye!" You now have two lives left until game over.
Inspired by video games, the RC Battle Machines from Dicky Toys are guaranteed to provide hours of action-packed fun, whether in your child's bedroom, in the garden or at the play area.
Operating principle
The wireless transmitter is located on the bonnet of each car. This
shoots infrared signals in the direction of the other car. The 46 cm remote-controlled monster trucks come with a loading surface,
which indicates how many lives you have remaining via an LED (3 = green, 2 = yellow, 1 = red). If you have no lives remaining, your
opponent wins. The LED indicator can be reset with a button press when you're ready to start your next action-packed laser tag chase.
For children aged 6 and above
The chassis of the remote-controlled Battle Cars is highly durable and can withstand small bumps and crashes. Designed for children aged 6 and above, the vehicles are also manufactured according to stringent safety standards. The "shots" are not real laser beams, but rather infrared signals (like on a TV remote) and therefore completely harmless.
Details
Remote control with sound module, 2 channels, 2.4 GHz, play with up to 16 vehicles simultaneously
Remote control range: up to 30 metres
Car length: 46 cm
Two RC monster trucks with shooting and turbo function
100% Ready to run – The cars are powered by 6.4 V 320 mAh rechargeable batteries, which are included with the set and can be recharged via USB.
Remote controls, each with 2x AAA batteries (included)

Warning! Not suitable for children under 3 years due to small parts. Choking hazard!
• Get ready for an action-packed duel – The RC Battle Machines offer a highly innovative and interactive RC experience. Prepare for breathtaking pursuits, just like in video games!
• Game rules: Both cars feature an infra-red pistol-grip remote control and have three lives. With the remote control, you can accelerate, steer, shoot and try to hit the person in front. All functions come with matching sounds.
• The set includes two vehicle and two 2.4 GHz remote controls. The cars come with rechargeable batteries and can be recharged via USB. The batteries for the remote control are included with the set (4x AAA).
• For ages 6 and above – The 31 cm cars shoot with harmless infrared signals (like TV remotes) and are ideal for children aged 6 and above.
• About Dickie Toys – The vehicle brand for children! We always have the same goal in mind: to make children smile. Unpack your toy and let the fun begin!