---
Sort by:
Top sellers
New
Price ascending
Price descending
Filter
---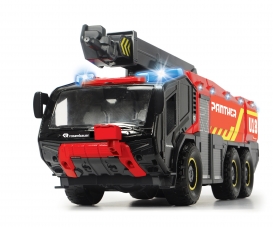 Fire brigade
RC Airport Fire Brigade
€56.99
Dickie Toys RC Airport Fire Brigade: Always ready to spring into action. Here comes the fire brigade: What is the next adventure waiting for the team? The RC Airport Fire Brigade from Dickie Toys features a cool water spray function that is guaranteed to provide hours of endless fun for your little one. Whether it's a building that's on fire or a cat that needs rescuing from a tree, the brave firemen can be at the scene in no time in their speedy fire engine. The extendable arm allows the firemen to easily climb to inaccessible areas. The large Rosenbauer Panther 6x6 with a red fire brigade design can be moved in all directions via the 4-channel remote control. There are also a range of light and sound effects to bring the exciting features to life. The remote-controlled toy vehicle is an ideal gift for boys and girls aged three and above!
More
New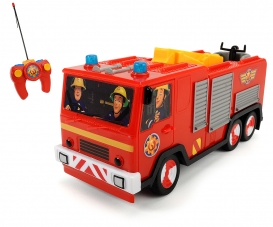 Fire brigade
RC Fireman Sam Jupiter
€40.99
Fireman Sam: Immerse yourself in the world of Pontypandy with Jupiter! Without Jupiter, Pontypandy would have a problem: The fire engine heads straight to the scene in any emergency and saves lives. Dickie Toys' toy version is remote controlled and comes with many exciting functions. Jupiter thrills children with a functioning blue light and a turbo function. The truck moves forwards and backwards, left and right. An additional toy figure can be placed on the small platform on the vehicle's roof. What children learn about fire prevention in the popular series they can put into practice in the playroom with this toy vehicle - naturally minus the fire. Make children happy with these faithful reproductions of the Pontypandy vehicles!
More