---
Sort by:
Top sellers
New
Price ascending
Price descending
Filter
---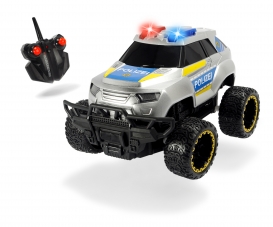 Police
RC Police Offroader, RTR
€27.99
All ready for action with the Dickie Toys Police Offroader! There's hardly anything that can get in your way when you're tracking down a criminal — if you're using the right vehicle! The Dickie Toys RC Police Offroader with high-performance rubber tyres is a detailed replica of a police car, and is ready for action as soon as the batteries are inserted. The radio remote-controlled car's blue lights flash while driving. Little law enforcers can switch the relevant sound on and off on the vehicle itself. This remote-controlled car can speed over many different surfaces at up to 8 km/h. If it collides with an insurmountable obstruction, the impact-resistant bumper absorbs the force of the impact. Give kids a quality RC toy with well thought-out technology!
More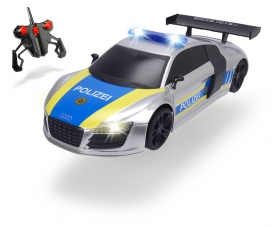 Police
RC Police Patrol, RTR
€42.99
The Police Patrol is on the scene! If things start to get uncivilised on the motorway, you need a police car with real power: The Dickie Toys RC Police Patrol can be on the scene no sooner than the batteries have been inserted. The toy with the design of the German motorway police has fine steering control for accurate driving. The siren sound with the proper style can be switched on and off directly on the vehicle. The front and rear lights and the blue light provide authentic driving enjoyment. The car travels at up to 8 km/h on its high-performance rubber tyres via the remote control. Keep everything under control on the kiddie motorway with this Audi-licensed detail-rich RC toy from Dickie Toys.
More