---
Sort by:
Top sellers
New
Price ascending
Price descending
Filter
---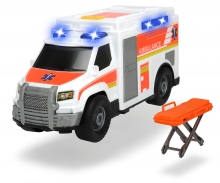 Ambulances
Medical Responder
€20.99
Action Series Medical Responder: Rescue is a matter of honour! If children aged three years and upwards suddenly want to become doctors or paramedics after playing with the Action Series Medical Responder rescue vehicle, it's no wonder. The lovingly designed free-wheeling toy vehicle with light and sound functions arouses curiosity about the job and rescue work in general. The tailgate can be opened and offers space for the stretcher. The batteries, too, are already included, allowing rescue work to begin immediately.
More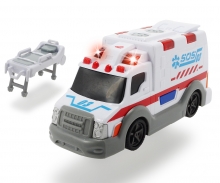 Ambulances
Ambulance
€10.99
Night in shining armour to the rescue in his ambulance! Help is on its way: your child is ready to help with the Dickie Toys Mini Action Ambulance with its blue light and siren. The tailgate opens to reveal the lavishly equipped interior of an American ambulance - with everything that an emergency medic might need. There is a stretcher to carry any injured people into the vehicle quickly and safely after an accident. The ambulance has a freewheel mechanism and smooth-running wheels. With its rounded corners, the toy vehicle is shaped specially for the various stages of motor development of children aged 3+. Give your child a thoughtful gift and a detailed insight into the work of international rescuers.
More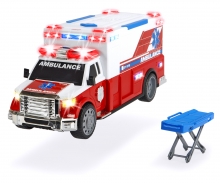 Ambulances
Ambulance
€32.99
Make way for the ambulance! Lifesavers with a blue light and siren - anything that catches a young child's eye out on the street is always a bit hit in the playroom. The Dickie Toys Large Action Ambulance has lots of moving parts and an opening tailgate. This children's toy teaches your child what to do in case of an accident or emergency. The ambulance comes with a stretcher for carrying away the injured. The toy vehicle has a freewheel mechanism and light and sound effects. It also provides a good opportunity to link pretend play with a few tips on what to do in case of an emergency. Give your child educational toys and the great feeling that comes from saving lives!
More
New