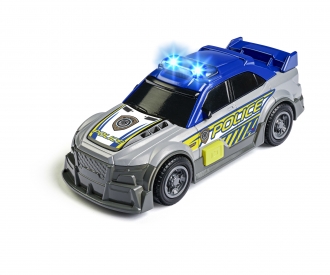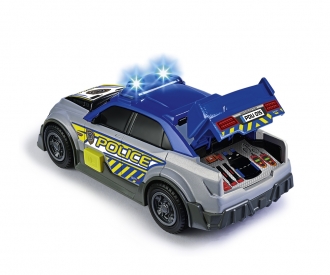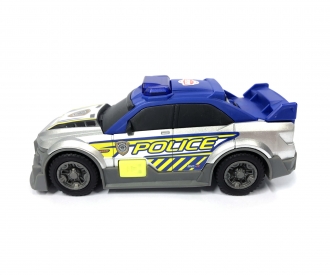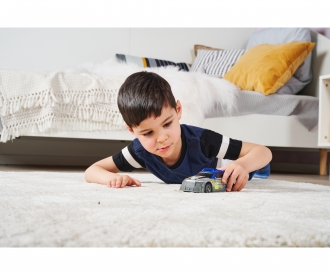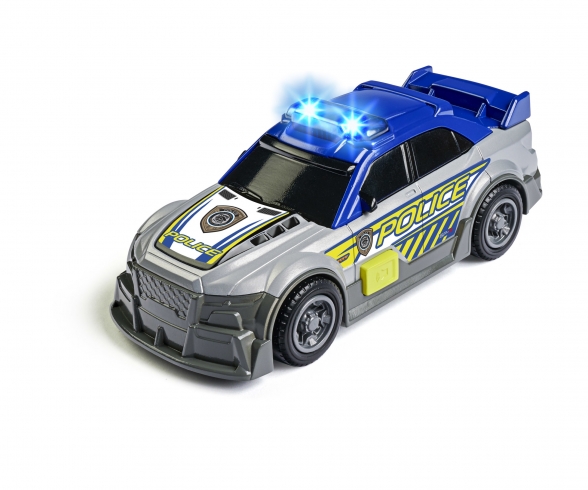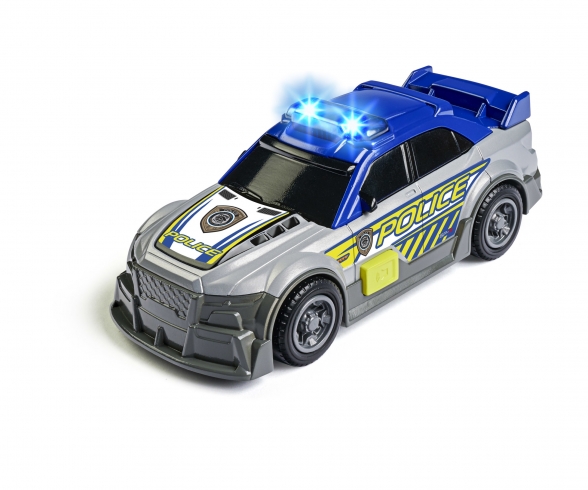 Quantity:
1
2
3
4
5
6
7
8
9
10
11
12
13
14
15
16
17
18
19
20
21
22
23
24
25
26
27
28
29
30
Dickie Toys – Police car – Police car with rotating wheels, light and sound effects, for children aged 3 and above
Time for a thrilling manhunt!
Robbers and bandits stand no chance against this police vehicle! The toy car is perfect for budding young police officers
and fans of American cars.
With light and sound effects
On the roof of the vehicle there is a siren, which can be triggered by pressing a button in order to alert nearby traffic to give way. Sounding the siren also turns on the warning lights. The wide range of
features is guaranteed to keep young car fans entertained.
The Chevy Silverado Police vehicle from Dickie Toys also features rotating wheels for easy manoeuvring. In addition, it helps to train hand-eye coordination and promote understanding of cause and
effect.
For children aged 3 and above
At 15 cm long, this vehicle is the ideal size for small hands. Designed for children aged 3 and above, the police vehicle is the perfect toy for budding young police officers. The batteries (2x AAA) are included so that you
can get started straight away.
Dickie Toys – Over 5 decades of cutting-edge toys
At Dickie Toys, we are passionate about vehicles, boats, aircraft and everything else that moves. Our range of vehicles includes diggers, police vehicles, fire engines and more, which
feature realistic designs and allow your little one to explore the world like never before.


Warning! Not suitable for children under 3 years due to small parts. Choking hazard!
• Get ready for the next manhunt! This police car is ideal for budding young police officers who are on the look out for criminals.
• US version – The 15 cm long police vehicle is designed based on real US police vehicles. The boot can be opened and contains a set of typical police gear.
• Light and sound effects – The vehicle also features a blue light and siren that can be triggered with a simple button press. (Includes 2x AA batteries.)
• For children aged 3 and above – The police vehicle features rotating wheels and large tyres for easy manoeuvring. The perfect toy for budding young police officers!
• About Dickie Toys – The vehicle brand for children! We always have the same goal in mind: to make children smile. Unpack your toy and let the fun begin!