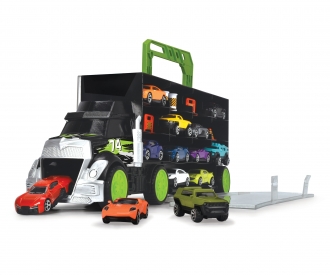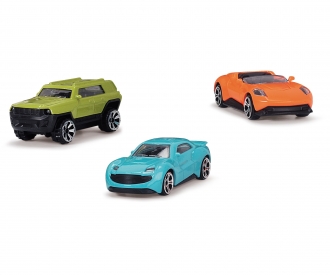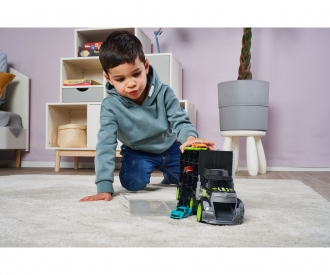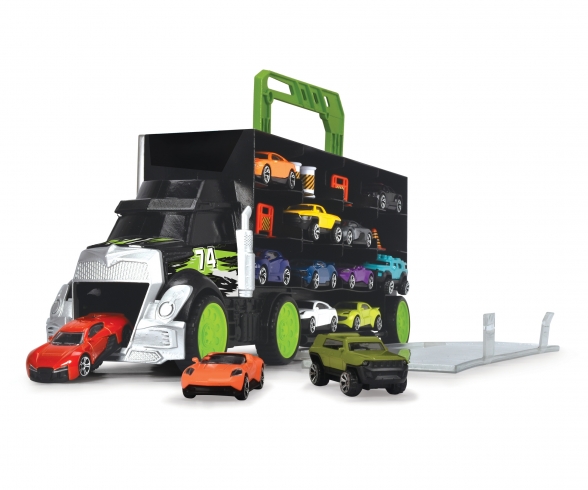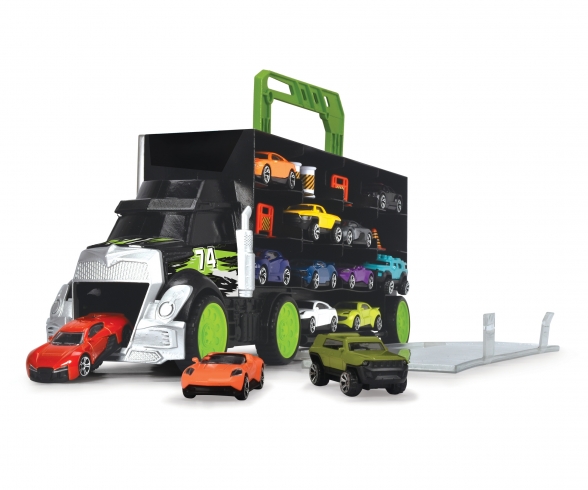 Quantity:
1
2
3
4
5
6
7
8
9
10
11
12
13
14
15
16
17
18
19
20
21
22
23
24
25
26
27
28
29
30
Dickie Toys – Carry & Store Transporter – Toy truck with space for 28 toy cars, includes 4 cars, includes accessories, with ramp, for children aged 3 and above, zero-waste packaging

Off to the next race!
Young children are guaranteed to love the small metal cars. With the transporter, the toy cars can be stored neatly and transported to their next race in style. Thanks to the built-in handle, the transporter is also ideal for on-the-go use.

For up to 28 cars
The truck features storage compartments on both sides, which can store up to 28 cars. It also has transparent panels so that the cars remain in full view when the truck is not in use or placed on a shelf.

Includes four die-cast cars and accessories
The set includes four premium cars with a metal chassis, as well as a number of accessories (2x cones, 1x stop sign, 2x barriers, 2x barrels) that can be used to set up a small race course.
Built-in ramp
Another highlight of the toy car transporter is the built-in ramp in the driver's cabin, which can be used to launch the cars from the truck.

For children aged 3 and above
Designed for storing toy cars, this practical transporter is the ideal gift for all young car fans aged 3 and above.

Dickie Toys – Over 5 decades of cutting-edge toys
At Dickie Toys, we are passionate about vehicles, boats, aircraft and everything else that moves. Our range of vehicles includes diggers, police vehicles, fire engines and more, which feature realistic designs and allow your little one to explore the world like never before.

Warning! Not suitable for children under 3 years due to small parts. Choking hazard!
• 2-in-1 design – Featuring rotating wheels and space for up to 28 cars, this 43 cm car transporter is the ideal toy for young car fans.
• Includes four metal cars – The set includes four premium model cars (length: 7.5 cm), as well as traffic cones and road signs.
• Start ramp – The driver's cabin features a built-in ramp for launching the cars into action. A must have for all action fans!
• For children aged 3 and above – The truck comes with a sturdy carry handle for easy transport.
• About Dickie Toys – The vehicle brand for children! We always have the same goal in mind: to make children smile. Unpack your toy and let the fun begin!

Frequently bought together
Frequently bought together