New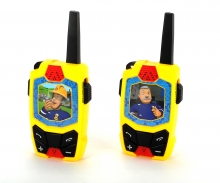 "Dickie Toys Fireman Sam Walkie-Talkie Set: Pontypandy is everywhere! When Fireman Sam and his friends set off on a rescue mission in Pontypandy, good communication is everything. With the Dickie Toys Fireman Sam Walkie-Talkie Set, fans of the series aged 3 years and upwards can take part in their own missions and adventures. The walkie-talkies operate on the 433 MHz frequency, and have a similar appearance to the ones in the series. One walkie-talkie has an illustration of Sam, and the other of Officer Steel. A noise-reduction feature ensures optimal conversation quality. In open terrain without interfering signals, the range is up to 250 metres. Batteries are not included, and with the walkie-talkies children can transform any play area into their own little Pontypandy.
€27.99
New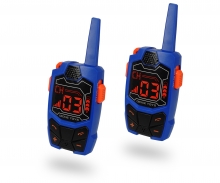 Time to ramp up the fun with the Outdoor Walkie Talkies! The Walkie Talkies in a stylish design are a recent innovation from Dickie Toys. They come in a set of two battery-operated handsets that communicate on a frequency of 433 MHz. If there are no walls in the way, they have a range of up to 250 metres. They feature sound suppression for perfect speech quality. It's easy for young explorers to keep the Walkie Talkies safe with a belt clip. This playset makes a great gift for friends who want to keep in touch and use their imaginations to discover the world.
€24.99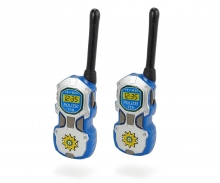 The 17 cm ""Police"" walkie talkie set has a working range of up to 80 metres depending on the terrain and conditions. The walkie talkie comes with a flexible aerial and users are not required to register with a local communications authority or to pay a licence fee. Each set consists of two walkie talkies. Batteries included (2x 9 V 6F22) Recommended for children from age 4.
€19.99
Shipping Information
If you put these articles in your shopping cart, the shipping address of your order is restricted to the following countries: