---
Sort by:
Top sellers
New
Price ascending
Price descending
Filter
---
Police
Mercedes Benz E43 AMG Police
€27.99
Police Mercedes-AMG E 43: always ready to respond. The Mercedes AMG E 43 is one of the best-loved sports models from this great brand. Keeping order can be so much fun in a run-about like this. The same fun is also guaranteed in the police Mercedes-AMG E 43 from Dickie Toys. The highly detailed, motorised toy car has a surprise or two in store. The tailgate opens automatically at the press of a button and a dog is heard to bark. Light and sound effects from the police world stimulate the imagination and, of course, ensure that the play experience leaves a more lasting impression. Children from three years of age can start play at once – the batteries are included.
More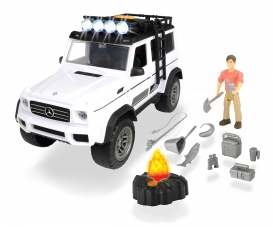 Toy sets
Adventure Set
€23.99
"Off on new adventures with the Playlife Adventure Set The 13 pieces set from Dickie Toys brings long-lasting playtime fun and many exciting adventures to children's rooms. It's time to explore the wilderness with the Mercedes-Benz 500 4x42, an articulated action figure and loads of great accessories. A camp fire with cool lighting effects and the light and sound module on the roof of the Mercedes-Benz G 500 4×4² provide a perfect backdrop. Nature sounds, engine noises and an extra roof searchlight are turned on at the push of a button. The jeep has a freewheel function and moveable parts and has a total length of 23cm. The action figure can easily take a seat behind the wheel owing to the G-class's openable doors. The Playlife Adventure Set, at a scale of 1:24, is suitable for children aged three and over and, thanks to the batteries already included, children can start playing with it at once.
More